One peculiarity of this whole situation is that most of the options for "Phase 2" are available from both the Riverbank alignment and the Kendall alignment. They aren't fully interchangeable, but there is a surprising amount of overlap, and most of them can be discussed largely independently of which Phase 1 alignment is used to reach them.
Blue to Auburndale (and Riverside)
Another proposal from 1945's yesteryear is extending HRT rapid transit along the Boston & Albany (Worcester Commuter Rail) line to Newton Corner, Auburndale, and then hooking around to Riverside. At the other end, it would have been connected to the Tremont Street Subway via the Pleasant Street Portal. This was a great idea.
The modern incarnation would see the Blue Line taking the most direct route from its Phase 1 terminus and then running out west parallel to the Worcester Line tracks.
Unfortunately, the 1945 proposal was made before the construction of the Mass Pike east of 128. For those who don't know, this part of the Mass Pike was constructed by taking land previously occupied by railroad tracks; this stretch once had four or more tracks, like the Southwest Corridor did at the time. The vision would've been quite similar to today's Southwest Corridor: take a couple of tracks and devote them to rapid transit, and leave the rest for mainline rail.
Now with only two tracks, it'll be much harder to enact that vision. If you wanted to be bold, you could propose reclaiming land from the Mass Pike, but good luck with that; likewise to building a cut-and-cover subway, or an elevated.
In today's climate, this stretch is much more favorable to an Indigo Line-style service, with perhaps 4 local trains per hour making all stops to Riverside supplemented by 2 trains an hour that run on to Framingham (with 2 additional trains expressing through on the journey to Worcester). This would provide modest frequencies while maintaining a single mode of service. (And, for what it's worth, would still leave the door open to building a subway or reclaiming some of the Pike later — the capital improvements to support Indigo service would still benefit continued mainline use, even after the construction of HRT extension.)
Blue to Riverside (and Needham)
This is probably the most important one to discuss. Extending the Blue Line to Riverside (usually via Kenmore, though occasionally via Huntington) is frequently proposed by amateur transit planners, and is reflective of the D Line's unusual nature as a Green Line branch: being a converted railroad line, it has rapid transit stop spacing, akin to the Blue or Orange Lines, unlike the other Green Line branches, which stop every few blocks. If you were going to replace one branch of the Green Line with the Blue Line, there are obvious reasons to pick the D, including the fact that it is (nearly) completely grade-separated.
There are lots of good reasons why it would make sense to extend the Blue Line to Riverside. Unfortunately, there is one very good reason against doing so, and to understand it, we need to take about two steps back and look at the bigger picture.
Northeast Corridor capacity along the Southwest Corridor
Railroad tracks into downtown are like pipes. They need to be able to feed all of the branches they go out to, and likewise they need to be able to accept all of the trains coming in from each branchline.
So we need to turn our attention to the mainline tracks on the Southwest Corridor, which ironically is also sometimes called the Northeast Corridor — southwest of downtown Boston, northeast of the rest of the country. There are three mainline tracks running from Forest Hills to Back Bay, which need to serve:
Commuter rail to Franklin and beyond
Commuter rail to Foxboro
Commuter rail to Providence and South County
Commuter rail to Stoughton, and eventually Fall River and New Bedford
Amtrak to New York and beyond
Commuter rail to Needham
As you can see, one of these things is not like the other. The Needham Line is the shortest commuter rail line after the Fairmount Line, it only serves two municipalities, and shares origins with the D Line, both being built from the remnants of some of the region's oldest railroads. (If you've ever wondered why inbound Needham Line trains start their journey by going away from Boston, that's why.)
You'll notice that the list above includes some destinations that are future-state, including South Coast Rail, as well as expanded Amtrak service. The NEC is going to need more capacity, and there isn't room to build more north of Forest Hills. That means diverting trains away. Franklin and Foxboro can be diverted to the Fairmount Line (and leverage existing grade separation to boot), but the longer distances to Providence, South County, Fall River and New Bedford necessitate access to the high-speed non-stop trackage along the NEC.
Needham should get rapid transit
Moreover, sitting just under 11 miles outside of downtown, Needham clearly sits within "Rapid Transit Land", along with the likes of Riverside, Braintree, Lynn, and Waltham (despite technically sitting outside of 128). The NEC should be reserved for high(er)-speed regional rail, and the Needham Line should be served by rapid transit.
For those unfamiliar, converting the Needham Line to rapid transit is usually envisioned by splitting it in two: an extension from Forest Hills to West Roxbury, and an extension from Newton Highlands to Needham. (Once again, everything old is new: these alignments in fact were the paths of the original railroads, when built 150 years ago; Riverside-Newton Highlands and Needham Junction-West Roxbury were cut-offs added in later on.)
So, the Needham Line needs to be converted to rapid transit, and the Needham section ought to be served by trains coming from Newton Highlands. Extending the Green Line to Needham is a well-known and widely-accepted proposal (at least in terms of its feasibility), and is yet another proposal that dates from the 1945 map. Needham Heights to Needham Junction is a good candidate for LRT — the stop spacing is good, the existing station footprints are conducive to light rail stops, and the surrounding density is on-par for what we might expect, similar to the villages in Newton to the north.
Needham can't provide the Blue Line what it needs: grade separation
Okay, so what happens if the Blue Line eats the D Line? In that case, we would need to have the Blue Line extend down to Needham too, and that's where we hit the Big Problem: grade separation.
HRT like the Blue Line basically always needs what we call "full grade separation." Basically that means "no railroad crossings" — bridges and tunnels only. "Light rail" is "light" in part because its vehicles are light enough that they can (sometimes) stop quickly enough to avoid hitting a pedestrian, and because they could collide with an automobile (potentially) non-lethally. "Heavy rail" fails both of those tests: trains that are longer, heavier, and faster which cannot safely coexist with pedestrians and autos without major safety measures.
If you want to extend the Blue Line, you need to find a way to grade-separate the tracks. Whether going over or going under, that will add enormous cost in terms of both finances and likely in terms of disrupting the built environment of the villages. Those costs will be extremely hard to justify.
To review…
So, barring major changes to the community, the following things are all true:
The Northeast Corridor will need capacity freed up for expanded service to Providence, the South Coast, and other distant locations
The Needham Commuter Rail Line is the odd one out on the NEC, and the only one that can be feasibly removed from the Commuter Rail system altogether
The Needham Commuter Rail Line therefore needs to be converted to rapid transit
The Needham segment of the Needham Line needs to be converted to LRT specifically
A Needham LRT branch would need to be fed from Newton Highlands
Therefore, Newton Highlands must be served by LRT
Therefore, converting the Riverside Line to Blue Line HRT is not feasible due to foreclosing the possibility of service to Needham, thus limiting vitally-needed capacity on the Northeast Corridor
Blue to Watertown and Waltham
Watertown and Waltham create an interesting quandary. There is a large gap between the Worcester Line and the Fitchburg Line, in which Watertown sits, right next to Waltham – both moderately dense communities and employment centers in their own right. And if you draw a line directly west from Bowdoin station, you almost directly hit Watertown Square and then Brandeis head-on; you only need to shift that line up 7 degrees in order to hit Waltham Central Square. Whether from Kenmore, Kendall, or Central, it seems perfectly reasonable to extend the Blue Line to Watertown Square and then on to Waltham.
The immediate challenge with this is that there has never been a railroad ROW between Watertown and Allston. Complete greenfield subway projects are extremely rare – almost the entire MBTA is built on land where rails were laid or tunnels dug over 100 years ago. To build straight across Allston from Cambridge to Watertown would require a major political and financial investment. If support for such an investment could be marshalled, it would be transformative for the area. But it's worth considering the alternatives; in my opinion, there are more achievable transit solutions for both communities.
Watertown
Historically, Watertown had three rail links to Boston: the A Line streetcar, a mainline rail station at Newton Corner, and the Watertown Branch of the Fitchburg Railroad.
A combination of these services resurrected would be significantly easier to build than a brand-new HRT line, and would offer reasonable service with increased flexibility at much lower cost. The ROW of the Watertown Branch is largely intact, and would be an easy and natural extension of GLX's Union Square branch; LRT would offer greater flexibility for grade separation and limited street-running, if needed. Newton Corner can be rebuilt and served by frequent electrified regional rail service and feeder bus service. And infrastructure investments along the 57's corridor can increase reliability of service and lay the groundwork for eventual return of light rail service.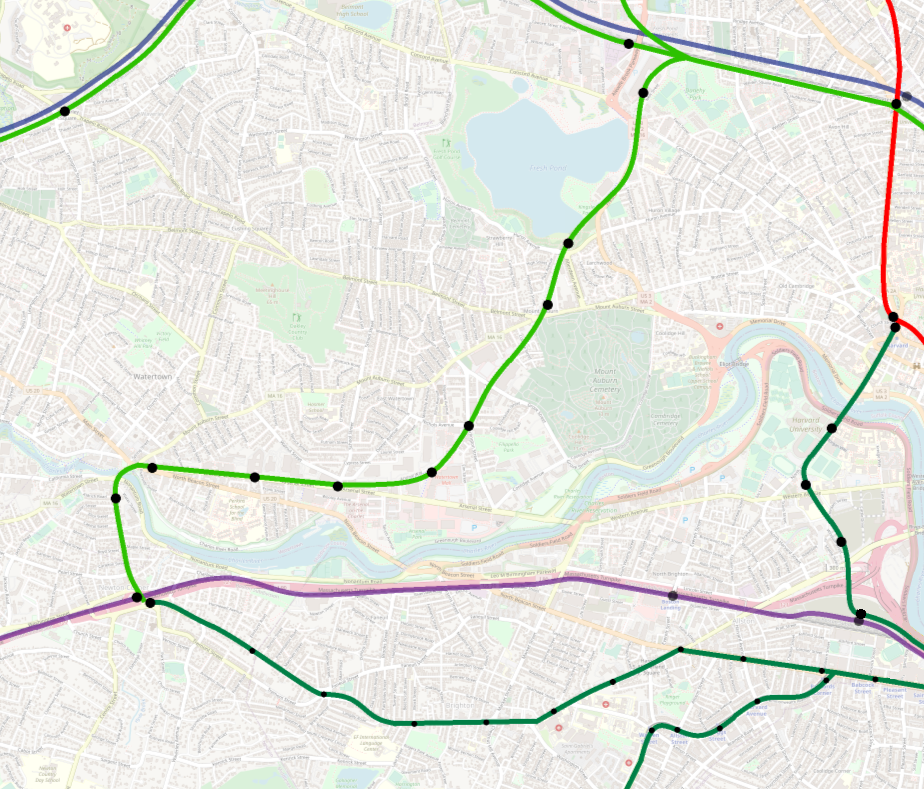 It's also worth comparing ridership on the 70 (between Watertown and Central) and the 71 (between Watertown and Harvard): along the stretches between Watertown and the respective Red Line transfer station, the 71 saw over 1500 boardings compared to the 985 boardings on the 70 (not including boardings from Watertown Square on either, although the 71 performs stronger there as well). The 70 corridor is itself not crying out for rapid transit; its main appeal is its directness, and a frequent regional rail service from Newton Corner will likely be just as fast. It is true that, from Watertown Square itself, a Newton Corner transfer hub will be less convenient; but for any riders coming from outside of Watertown Square, it will just be a matter of riding a couple extra minutes on a feeder service.
Waltham
Readers of the Wikipedia article on the Watertown Branch will note that it used to run all the way from Watertown Square to Waltham Central Square. Why not run the Blue Line to Watertown via the B&A ROW (with a short hop between Newton Corner and Watertown Square), and then follow the old ROW to Waltham? The problem is that the ROW really isn't intact west of Watertown Square. Even for LRT, it's very curvy and crosses streets at odd angles.
Again, for HRT, you would need to grade separate the route, which means subway, elevated, or lots of embankments with short bridges over streets. None of those would be popular in the suburbs, especially when rail has been gone for generations (unlike in East Watertown, where trains ran as recently as the 2010s).
Waltham is also much better served by the Fitchburg ROW – whether by frequent regional rail, an HRT extension of the Red Line from Alewife, an LRT extension of the Green Line from Union Square, or some combination of the above. And if you really wanted a rail connection between Waltham and Watertown, LRT would win out again, as you could look at lane-taking on Route 20 to do protected-street-running – again, not an option with HRT at all.
Blue to Brookline, Longwood, and points south
I've discussed above how an extension of the Blue Line to Riverside via Newton Highlands creates challenges. However, a partial extension could be more viable. Assuming a D-to-E connection is built, allowing D Line trains to run into Huntington Ave, an extended Blue Line could take over the ROW between Kenmore and Brookline Village.
This would require some clever tunneling underneath the Mass Pike to hook into the D branch – currently the D shares tracks with the C on the approach to Kenmore, so you would need to find an alternate route. But aside from that, this would probably be a relatively straightforward extension, as the ROW is already grade-separated. This would also have the significant benefit of providing HRT service to Longwood, a major employment center that is notoriously difficult to serve with transit.
One downside is that you would lose some operational flexibility on the Green Line. The trade-off would need to be studied to get a clear cost-benefit analysis, but I personally think the trade-off could be a reasonable one. An HRT link between LRT stations at Kenmore and Brookline Village could also provide benefit to a larger LRT network overall, depending on final design.
The other downside is that I think this alignment produces a dead-end. Once at Brookline Village, you can't continue west, for reasons explained above. You could continue south toward Forest Hills, along South Huntington or the Jamaicaway, but at that point you begin to duplicate Orange Line service, at the expense of a lot of tunneling along an environmentally sensitive stretch of greenspace.
If you wanted to go for the moonshot, you could abandon the southern half of the ROW, and turn east at Longwood to tunnel directly underneath the LMA, potentially continuing further to Ruggles, Nubian, and points east and/or south – essentially building the southern half of the Urban Ring. This extension would require an enormous capital investment, though would likely also see enormous ridership.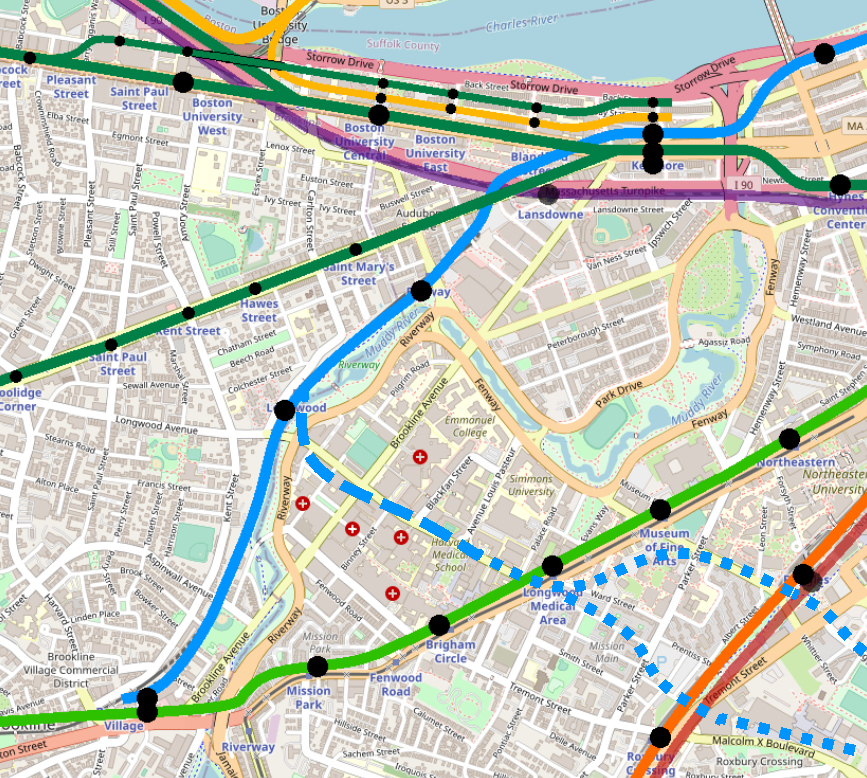 In my next and final post on this topic, I will discuss why I believe the Kenmore alignment is the stronger choice, and what I think this choice represents for the system overall.